Welcome to the amiibo wiki, the wiki about Nintendo's new line of figures that anyone can edit. amiibo are used on the Wii U and 3DS to bring your favorite characters to life on some of the biggest games yet.

Featured Article

Splatoon
is a team-based third-person shooter which is playable by up to eight players in online 4-vs-4 matches, although the game also features a single-player campaign. Players control characters called Inklings, who have the ability to change between human and squid forms. The Inklings can shoot colored ink across the game environment, with the player's goal being to cover the most territory in their team's color before the match ends.
(read more...)

About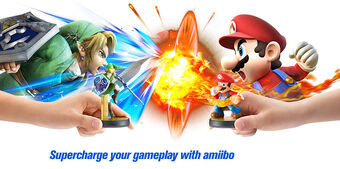 Amiibo (stylized as amiibo) is a near field communication (NFC) based platform, developed by Nintendo. This optional enhancement platform allows compatible figurines to link with supported video games, allowing two-way transfer of data into and out of a supported game, and possibly between supported platforms. Find out more here!

Around the Wiki


Important Pages on Amiibo Wiki


Poll

Do you think there will be retailer exclusives in Wave 6?