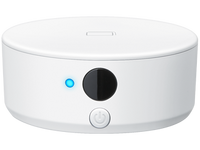 The Nintendo 3DS NFC Reader/Writer is a standalone accessory compatible with all devices in the Nintendo 3DS family. Its main purpose is to allow the use of amiibo on the original Nintendo 3DS devices. It was first announced in November 2014[1], and released September 25, 2015.
References
Edit
Ad blocker interference detected!
Wikia is a free-to-use site that makes money from advertising. We have a modified experience for viewers using ad blockers

Wikia is not accessible if you've made further modifications. Remove the custom ad blocker rule(s) and the page will load as expected.